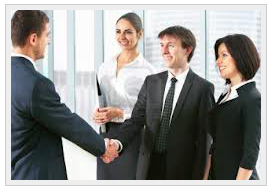 Face Recognition Solution's Visitor Management System deals with the security provided at various premises from the unauthenticated or unwanted visitors. This electronic solution can overcome the various shortcomings that used to be faced by the primitive security methods for checking the visitors at a particular premise.

Basic Principle for Visitor Management System :
Our visitor management system is based on face recognition technology that means, instead of the pen and paper security method now you can rely on the electronic system. This biometric system is based on recognizing the facial details of the individual. During the initial visit of the individual, the system captures the facial details and stores the data in the database of the computer. In the next visit, the system matches the newly captured facial details with the old stored patterns. If the system finds a match it grants the permission otherwise it denies.
System Features:
The various features that make the system unique and different than other existing security systems are :
Visitor management system is the easiest and safest method of security.
It indulges an easy installation procedure.
It discards buddy punching problem.
It supports electronic data storage.
It is the better and effective security system than the conventional security methods.
Generates alarm in case of visiting of the banned individuals.
This latest technology of Face Recognition Solution also possesses a feature of banning the employees. This is achieved by adjusting the priority level of the solution. When a banned employee visits the premise in future, this system generates an alarm to alert everyone about the unwanted happenings.

Based on 'no human touch' technology, this biometric solution possesses a very easy installation method. Also the maintenance of this solution is a simple one. Like the conventional methods, it does not require the managing of the pile of papers and this electronic system also reduces the chances of fraudulence. With all these benefits, face recognition sytem is the most effective security system for different premises.
Tell Us Your Needs We Will Respond Soon !
INQUIRY NOW !

WHAT WE OFFER ?
PRIMARY PRODUCT
NAVIGATION LINKS
PRIMARY CONTACTS
If you have any questions or need any additional information we will be happy to hear from you. Your request will be processed within less than 24 hours, and one of our representative will certainly get back to you.
JUSTLOOK - FACE RECOGNITION SYSTEM
ADITECH INFOTECH PVT LTD
Ahmedabad, Gujarat

Call : 91-9227070102, 9327049217
COPYRIGHT
Feel free to get to know us view our work read the latest or simply SAY HELLO !